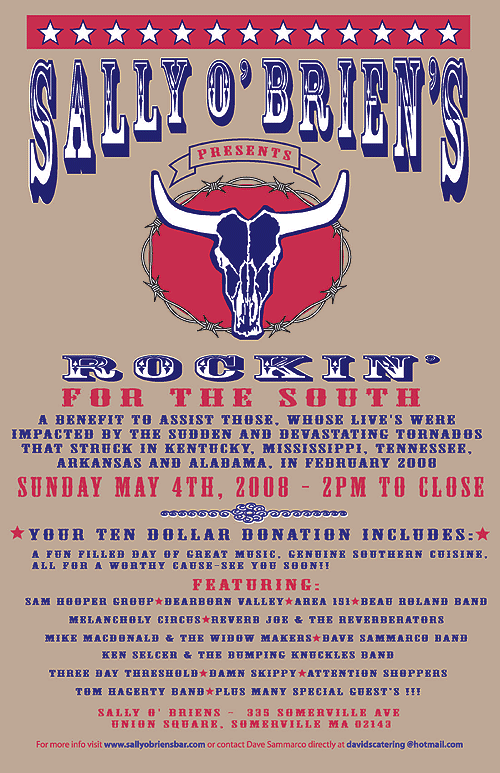 Mayfair is next Sunday, but here's an extra option for today.

--------------------------------------------------------------

SUN 5/4

2pm to 11pm
"Rockin' For The South"
at Sally O'Brien's, 335 Somerville Ave, Somerville (Union Sq)
$10

Feat:
Sam Hooper Group (2pm), Dearborn Valley (2:40pm), Area 151 (3:20pm), Beau Roland Band (4pm), Melancholy Circus (4:40pm), Reverb Joe & The Reverberators (5:20pm), Mike McDonald & The Widow Makers (6pm), Dave Sammarco Band (6:40pm), Ken Selcer & The Bumping Knuckles Band (7:20pm), Three Day Threshold (8pm), Damn Skippy (8:40pm), Attention Shoppers (9:20pm), Tom Hagerty Band (10pm)

Dang, this is a lot of Americana/Alt-Country/Rock 'n Roll... AND you get a bowl of chili, a bowl of gumbo, or a pulled pork sandwich included in the cover charge (while supplies last, if course).

Proceeds benefit the American Red Cross for their relief efforts to help those displaced by February tornadoes (in Tennessee, Arkansas, Kentucky, Alabama, Mississippi).

SUN 5/4

9pm
Paper Thin Stages, Thunderhole, Mane
at Milky Way Lounge, 403 Centre St, Jamaica Plain
Free / 21+

Free rock at the Milky Way while it lasts -- they are closing in a year or less... The bands tonight could be cool background for bowling, pool, and/or cocktails, but you may be quite rewarded by giving your full attention. Paper Thin Stages excel at synth-based explorations. Thunderhole got the rock-tronica much like their name suggests. Mane's approach to indie-guitar rock has that modular/angular feel that will fit well with the other bands.

SUN 5/4

8pm
ImprovBoston's Bachelor & Bachelorette Auction
at Venu, 100 Warrenton St, Boston (Theatre District)
$7 online / $10 door

Bidding starts at $25 for a date (donated by local businesses) with 10 male and 9 female comedians. This could be fun and funny. You can see videos of the bachelor and bachelorettes on the site.

TIP: Keep an eye on the bidders, and ask one of them out at some point.

This is one of the fundraisers for ImprovBoston's new, larger theater in Central Sq; so expect a few raffles as well. I don't go to posh clubs, so I think this place might be like that.