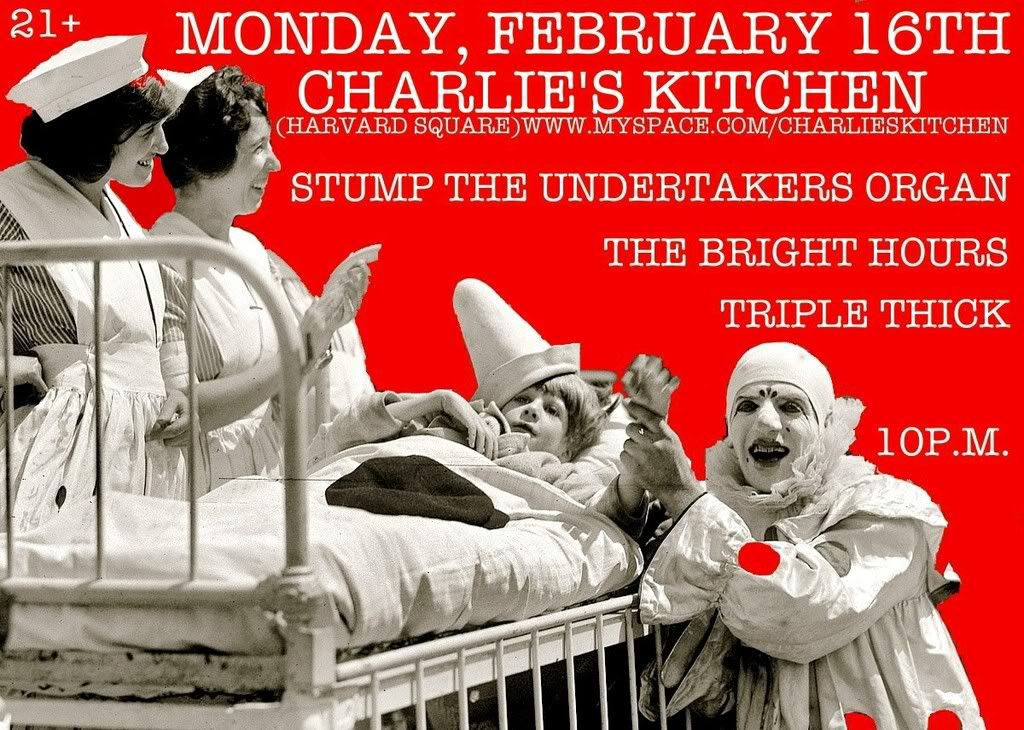 So I went down to hear Al Kooper last night, and Highland Kitchen was packed! Kooper and rhythm section whipped out early rock nuggets for about 90 minutes, and folks were dancing in the aisles.

--------------------------------------------------------------

MON 2/16

10am to 4:30pm
"Chisels & Chainsaws": Annual Ice Sculpture Competition
at Christopher Columbus Park, Boston (North End/Waterfront)
FREE

Some of us have the day off. Some us of us work downtown. Others will have to wonder what art students do with ice and power tools. Eight teams from the School of the Museum of Fine Arts, MassArt, Boston Conservatory, Boston Architectural College, Northeastern, and RISD will each get somewhat less than a ton of ice to make something awesome. This is the 5th year, so I suspect you'll see far more than ice in the presentation.

Stop by early in the day to watch and play around with ice of your own in the "Community Build Section" -- or swing by after 2pm to see the finished products and vote for your favorite. The people will decide who goes home with the "Golden Chainsaw Trophy".

The ice art will be there until it melts naturally.

MON 2/16

8:30pm
Robby Roadsteamer, Shane Mauss, Dan Boulger, Mehran, Chris Coxen, The Steamy Bohemians, Gary Petersen
at Great Scott, 1222 Comm Ave, Allston
$8 / 18+

Roadsteamer, oh, Roadsteamer. Robby sometimes leaves me cold, then makes me laugh my ass off. He has a new CD called "I Solved Every Miniquest", because... Y'know... He likes video games. The guys that make me laugh a lot are Shane Mauss and Mehran, but there's a lot of good comedy tonight. Hey -- laugh as much as you want, and there's no overpriced-drink minimum...

MON 2/16

8:30pm
"Dark Was The Night": Listening Party
at River Gods, 125 River St, Cambridge (Central Sq)
FREE (but donate a few bucks)

The Red Hot people have done it again. They always get uber-cool music acts to contribute something to their compliations that benefit AIDS-related research and awareness. Bradley of the awesome music blog "Bradley's Almanac" will be the guy in the DJ perch (as well as Ryan from the awesome band Hallelujah the Hills) playing cuts from the collection.

Check out some of the songs below. (It was ridiculously easy to get the song widgets.) The artists include: David Byrne, Jose Gonzalez, Feist & Ben Gibbard, Bon Iver, The National, The Decemberists, Iron and Wine, Sufjan Stevens, Spoon, Arcade Fire, My Morning Jacket, Sharon Jones & The Dap-Kings, Buck 65 , The New Pornographers, Yo La Tengo, Cat Power, Andrew Bird, Conor Oberst & Gillian Welch, Blonde Redhead.

There's going to be giveaways/prizes to be had, but it would be nice if you donated something to benefit local HIV/AIDS assistance program, Boston Living Center.

MON 2/16

Triple Thick (11:30pm), The Bright Hours (10:45pm), Stump The Undertaker's Organ (10pm)
at Charlie's Kitchen, 10 Eliot St, Cambridge (Harvard Sq)
$5 / 21+

Dude, it's some killer garage-rock from Triple Thick, shockingly straightforward rock by The Bright Hours, and the twisted organ stylings of Allan Sheinfeld (The Spurs, The Coachmen, "Alvis", and much more).