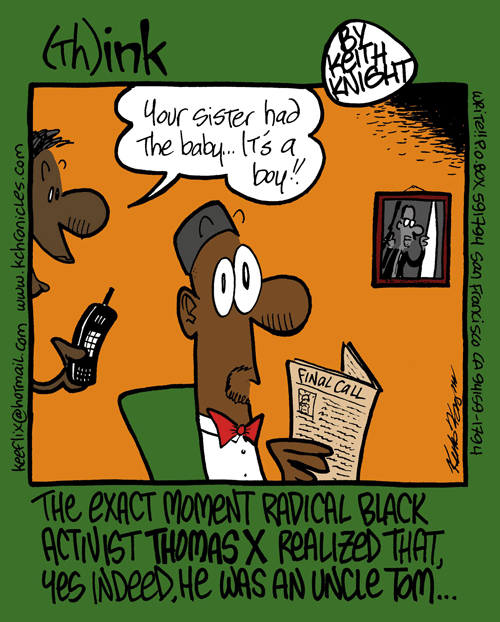 Man, I have loved Keith Knight's strips for years and years. I think it's a shame that I can't get a "K fix" when I pick up any of the free local periodicals. Thanks, Internet, for keeping me in the loop.

Not only can the few panels be humorous and incisive, Knight's work is often very touching. When his wife was being treated for cancer, I felt like I was keeping up with two of my dearest friends. I still haven't met him or seen him in person, but maybe this trip back to Boston may be the time...

He's got a new compilation book "The Knight Life, Chivalry Ain't Dead", and he's doing a few presentations and signings over the next week. Ergo, I have to spread the word.

It's free to get in, listen to Keith talk, watch the slideshow, and whatever else...

The book costs $18 according to the website, especially since it seems like anyone (whether you buy a book or not) is invited to hang out afterward for drinks.

From Malden to Salem to Cambridge, it's your chance to share the space with a man of art, cool, and genius. Most of the info below is from his site.

If you really want to dig some of the older stuff, Keith also says:
Along with the new book, I'll have copies of "K Chronicles" and "(th)ink stuff", along with the "Beginner's Guide to Community-Based Arts" and original art.
--------------------------------------------------------------
THUR 6/3
7pm
at
Converse Library
, 36 Salem St, Malden
FREE
I will begin my Boston area book tour with a signing directly across the street from my old high school! I am psyched to be signing for my first collection of dailies at the place where I spent hours perusing Doonesbury and Peanuts collections as a kid.

Not only that, but I was presented my first (and only) arts scholarship at the historic landmark, which was designed by architect H. H. Richardson. There will be a slideshow, Q & A, book signing, and then beers at the Dockside!
SAT 6/5
6pm
at
Gulu-Gulu Cafe
, 247 Essex St, Salem
Next, I'll be signing in the lovely town of Salem, Mass, home of my alma mater, Salem State College. It'll be alumni weekend, AND the Salem Arts Festival that weekend, so there'll be plenty of mischief going on.

The Gulu-Gulu Cafe looks like a place I would've spent most of my time in, had it been around back in the day. Joining me in this slideshow/book signing will be fellow SSC alum and award-winning cartoonist Mark Parisi!!

Beers at Dodge Street following event.
WED 6/9
6pm to 8pm
at
Million Year Picnic
, 99 Mt Auburn St, Cambridge (Harvard Sq)
I can't make a trip to Boston without a signing at the finest comics emporium in the area, Million Year Picnic.

At one signing, Cornel West was walking by outside the shop and my aunt stopped him and took his pic alongside my cousin. She never invited him in and I'm still bitter about it. At the last signing, a guy asked me how much my Knight Life originals were. I said "One twenty five." He proceeded to take one dollar and a quarter out of his pocket to pay me.

What I'm saying is anything can happen at MYP, and it usually does.

Beers at Shay's after the event.