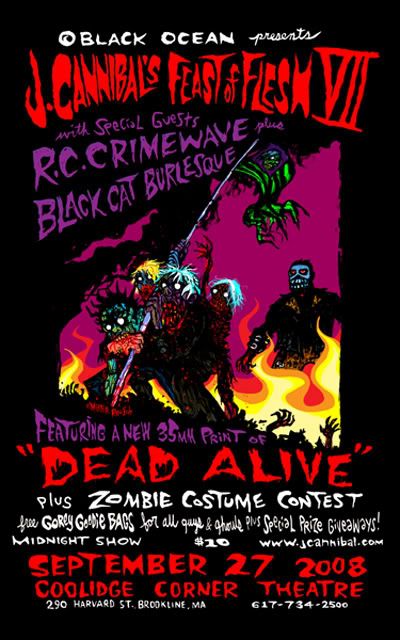 Have fun and get wet! At least, have fun!

--------------------------------------------------------------

SAT 9/27

Noon to 6pm
Annual Beantown Jazz Festival
on (about 580) Columbus Ave, between Mass Ave and Carter Playground, Boston (South End)
FREE

* Rain or Shine *

Feat: Kurt Elling (1:30pm), Javon Jackson Band w/ Les McCann (3pm) Andre Ward (3:25pm), Gold Sounds (4:30pm) Randy Weston's African Rhythms Trio (4:45pm)

SAT 9/27

11am to 6 pm
Annual Jamaica Plain Open Studios
all around Jamaica Plain [PDF, big one]
FREE

"Bring your rain coats and umbrellas and we'll bring the art!"

SAT 9/27

Joe Buck Yourself (11:45pm), Almighty Terribles (10:45pm), The Wynotts (9:45pm), Starry Crown Night Stick (9pm)
at Abbey Lounge, 3 Beacon St, Somerville (Inman Sq)
$10

Joe Buck Yourself = Insane, one-man punk-a-billy band

SAT 9/27

Midnight
J. Cannibal's Feast Of Flesh VII
Feat: "Dead Alive" w/ Rock City Crimewave, Black Cat Burlesque
at Coolidge Corner Theatre, 290 Harvard St, Brookline
$10

Zombie movie from the director of "Lord of the Rings", "best-zombie" contest, creepy punk rock, ghoulish dancers, zombie shirts for sale, and free gory goodie bags. I am there! Really!

F--- Salem and their Halloween noize...

* * * * * * * * * * * * * * * * * * * * * * * * * * * *

SUN 9/28

10am to 5pm
Boston GreenFest
at City Hall Plaza, Boston (Govt Center)
FREE

Originally scheduled for Friday and Saturday, it's postponed and compressed onto Sunday. Let's make global warming fun! (Umm -- and educational...)

SUN 9/28

4pm to 7 pm
"What the Fluff?" Festival
at Union Sq Plaza, Somerville (nexus of Somerville Ave, Washington St, Bow St)
FREE

The seemingly annual celebration of that marshmallow goo that was invented in Union Square more than 90 years ago.

Fluff treats, The Flufferettes, The Shrinking Islands, Emperor Norton's Stationary Marching Band, Pasty Hamel Band, fluff-themed fun 'n games. The introduction of "Fluff Boy"! I don't eat Fluff, and I had a good time.

SUN 9/28

9:30pm
Serious Geniuses, Bread and Roses, Landmines, Vessel
at Milky Way Lounge, 403 Centre St, Jamaica Plain
FREE / 21+

It's a rockin' show (with some rockin' folk in there)!