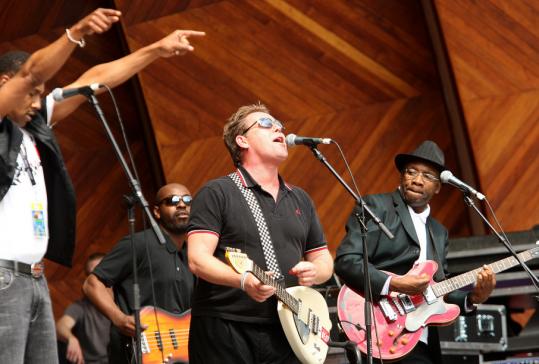 I know, I know! How did I miss The English Beat last week? I just can't say, but it doesn't take much planning. Email some friends (link to this post, haha) and go! There's actually lots of good free stuff to do tonight -- even beyond the four below.

--------------------------------------------------------------

THUR 8/21

5pm
The English Beat, Mieka Pauley
at City Hall Plaza, Boston (Govt Center)
FREE

There's at least one thing I like about WBOS, they sponsor a bunch of free concerts. It was sad to see that the Copley Sq series didn't return this year, but they still do alright. There's a good show right after work today.

Basically singer Dave Wakeling and dancer Ranking Roger will do a fine set of two-tone ska. Besides the English Beat biggies ("Save It for Later", "Mirror in the Bathroom", etc), they throw in the General Public hits too ("Tenderness", "I'll Take You There"). I heard they did a good job at the Hatch Shell / Earth Day show. The most excellent local singer-songwriter Mieka Pauley is opening, so you should get there as soon as you can!

THUR 8/21

7pm
"This is What Women Want" Kick-off
at YMCA Theater, 820 Mass Ave, Cambridge (Central Sq)
FREE

So after a little research, I've learned this isn't a seminar to assist lonely men. Cambridge's Center for New Words is one of the organizers of this project to magnify the voices of women during the presidential election. The website and the tour is an attempt to get women's issues and concerns into the larger public forum. This is the first event of a tour that will be held in the next couple months when and where the debates will take place. This is a chance to hear various speakers, and it seems that attendees will have a chance to speak as well.


From the Weekly List:


THUR 8/21

7pm
Old-Time Baseball
at St. Peter's Field, 57 Sherman St, Cambridge (near Fresh Pond)
FREE

A vintage baseball game was put together during the '94 baseball strike, and it's become an annual event. It's a casual evening of baseball with college players and occasionally a retired pro playing in vintage-style uniforms from various teams and eras.

I went last year and had a great time. I did talk to Johnny Pesky (one of the team managers) after the game, and he was awesome. People flocked to him, but he easily obliged my autograph request. "It won't buy you a cup of coffee," he said. Pesky is scheduled to be one of the managers again, and Lou Merloni is going to play.

A corporate sponsorship presents the game and will make a charitable donation to the Todd J. Schwartz Memorial Fund, which supports the Jimmy Fund Clinic. The concession proceeds might benefit the cause too; the sausage was darn good last year... It's not a bad idea to bring a blanket or a chair.

Raindate: FRI 8/22

THUR 8/21

6pm to 11pm
Inman Under The Stars: Movie Night & Neighborhood Social
at the East Cambridge Savings Bank's parking lot, 1310 Cambridge St., , between Hampshire and Cambridge Streets (Inman Sq)
FREE

They can't say it, but the hint is so obvious that it's Star Wars. It better be, because none of the 3 prequels could be described as "an inter-galactic adventure loved by all!" Performers from ImprovBoston's "Henchmen" show will be goofing around Inman Sq before the movie, and they do have some sci-fi material. The screening begins around 8pm, and there should be free popcorn and bottled water...

In case of rain, the event will be canceled.