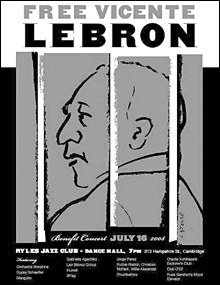 We don't know what is exactly going on with Vicente Lebron's case even though he's been in custody for about 2 months after Homeland Security took him at Logan when Either/Orchestra was returning from an overseas tour. I read some conjecture that Lebron may have had a minor drug conviction on his record from a long time ago, and he's apparently not a citizen even though he's lived here for 38 years.

This seems to be one a case when new "security" laws have ensnared a harmless musician. Are we making anyone safer by imprisoning this beautiful soul?

What happens if nothing comes of this? That is, they let him go at the end of this and he returns home (the one he shares with his wife -- where his grandchildren probably visit on the weekends)...?

Justice needs to pick up the tempo, but you can help in the meantime...

--------------------------------------------------------------

WED 7/16

8pm to 1am
"Free Vicente Lebron!" Benefit Concert
at Ryles Jazz Club, 212 Hampshire St, Cambridge (Inman Sq)
$10

Vicente Lebron is one of the percussionists for jazz ensemble Either/Orchestra, and something went terribly wrong when they returned from their last international tour. Dominican-born Lebron has been in Homeland Security detention for over a month, and there really isn't much available information about his case. This show is a benefit for the legal defense fund of a fine musician, family man, and US resident for more than 35 years. (They will accept more than $10, if you desire.)

Many excellent bands and singers to perform:

8pm:
Orchestra Morphine, Gypsy Schaeffer, Manguito

9pm:
Gabrielle Agachiko, Leo Blanco Group, I-Level

10 pm:
3Play, Jorge Perez w/ Juan "Cotito" Medrano, latin-ethiopian-jazz w/ singers: Ruthie Ristich, Christian McNeill, Willie "Loco" Alexander

11 pm:
Rhumbafrica, Charlie Kohlhase's Explorer's Club, Club D'Elf

Midnight:
Russ Gershon's Mood Elevator

This is the first article I read about the case.


Other Wednesday stuff:

WED 7/16

8pm
Regional Poetry Slam
at Cantab Lounge, 738 Mass Ave, Cambridge (Central Sq)
$3 / 18+

As I read it, the open mic happens at 8pm where anyone can go up for a maximum of 3 minutes. Around 10pm, the Cantab is hosting 4-person teams from Lizard Lounge, Maine, and New Hampshire in anticipation of the National Poetry Slam.

(There was an item in today's Metro.)

WED 7/16

7pm to 9pm
Sorta The Drifters, Shirley of The Shirelles
at City Hall Plaza, Boston (Govt Center)
FREE

Most of the City Hall concerts on Wednesday don't interest me, but the songs will be good even if it will probably be one of those pedestrian nostalgia/oldies shows.

The Drifters were one of the premiere doo-wop groups ("There Goes My Baby", "This Magic Moment", "Save The Last Dance For Me", "On Broadway"), and The Shirelles did some of my favorite songs of all-time ("Will You Love Me Tomorrow", "Mama Said", "Baby It's You").

WED 7/16 and THUR 7/17

8pm
"As You Like It": Shakespeare in the Park -- Open Dress Rehearsal
at Parkman Bandstand, about 165 Tremont St, Boson (Boston Common)
FREE

Maybe fewer people will know about the dress rehearsals? The annual Free Shakespeare performances are really one of the best gifts to the city, so we should appreciate it and take in a performance.

It's one of the Bard's sylvan love stories, which the Commonwealth Shakespeare Company will twist it in their way as they usually do each year. It looks like the sets might be reinterpreted in a 1930's/40's style.