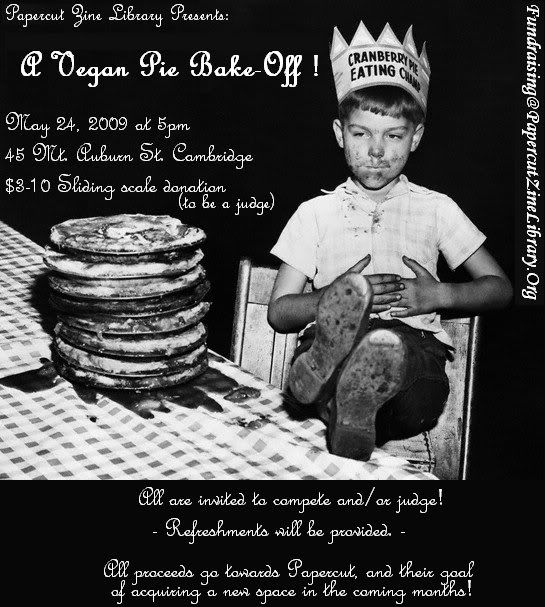 Another post should be coming for Sunday night cheapness.

If you're a Harry Potter fanatic, you already have put on your costume for the "WizRock is Dead" (1:30pm) show. I doubt Wiz-Hop any cooler than Wiz-Rock...

5pm
Vegan Pie Bake-Off
at Papercut Zine Library, The Democracy Center, 45 Mount Auburn St, Cambridge (Harvard Sq)
$3 to $10 sliding scale

Believe it or not, people love to even bake vegan pies. Sweet pies... Savory pies... Just don't use any dairy or eggs! (Or meat.)

It's too late to bake a pie and win a prize, but you can eat as much pie as possible. The public will decide the winner(s).

They will probably be delicious. The two most common reaction may be: "Look at all these awesome vegan options!" and "Hmm, I guess vegan pies don't have to taste like crap."

The proceeds benefit the Papercut Zine Library, which may have to move. The sliding scale is "pay what you can afford."