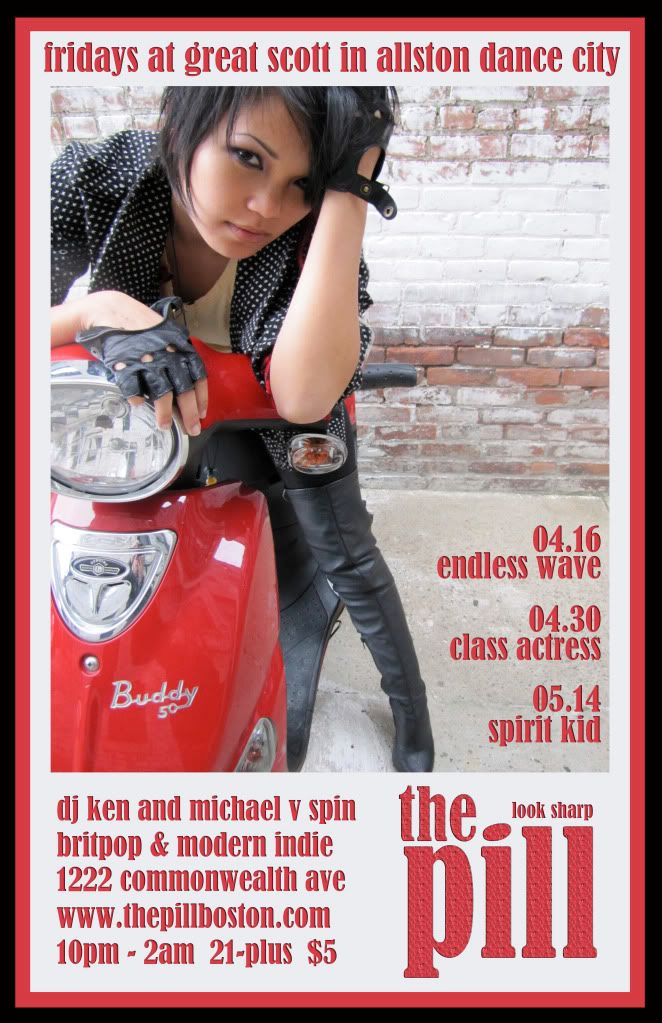 Gah! I was unfortunately stuck with an early, incomplete draft of today's cheapness. I've tried to cobble it together.

--------------------------------------------------------------

FRI 5/14

7:30pm
Anderson Comedy: "The Gas"
at Great Scott, 1222 Comm Ave, Allston
$5

Feat: Tom Dunlap, Will Smalley, Mike Abramson, Theresa Condito, Guitler Raphael, Gaby Dunn, Alana Eisner, Casey Malone, Matt D

With 9 performers scheduled, there's gotta be a few that will get you laughing. At these prices, have a few PBR's and enjoy. Some very funny people will be onstage, so it should be more interesting than talking to your friends for that whole time...

You can go do something else by 9:30 or even get home early... You could even stay for "The Pill" at no extra cost to dance after laughing.

FRI 5/14

Drew English (Midnight), Shadwell (11pm), MeandJoanCollins (10pm), The First Annual (9pm)
at TT the Bear's Place, 10 Brookline St, Cambridge (Central Sq)
$10

Honestly I'm suggesting this show on the strength of MeandJoanCollins. The other bands aren't bad, but they don't excite me much. You may like them, but I think Me&JC is one of the best bands in town -- if not the best. They've got everything going that should make them stars (whatever that means at his point).

FRI 5/14

The Coffin Lids (Midnight), The Lyres (11pm), The Darlings (10pm), The Satin Kittens (9pm)
at Cantab Underground / Club Bohemia, 738 Mass Ave, Cambridge (Central Sq)
$8

With his output in The Lyres (and DMZ before) Jeff 'MonoMan' Connolly is mad genius of garage-rock, and this is billed as a birthday bash. People will likely praising him from the stage, and MonoMan may just be his usual weird, ranting self. The first two acts will be on the acoustic and/or country-rock tip followed by two shots of garage.

FRI 5/14

9:30pm
Ex-Humans, Thick Shakes, White Pages, Bummer
at PA's Lounge, 345 Somerville Ave, Somerville (Union Sq)
$8 / 18+

Just loads and loads of bitchin' punk and garage-punk and more punk rock. It makes the idea of going to PA's sound great. Thick Shakes are awesome, and this may be the first trip to Boston for Ex-Humans.

FRI 5/14

9:30pm
"Zombies of Mass Destruction" w/ "Remission" & "A Beautiful Death"
at Brattle Theatre, 40 Brattle St, Cambridge (Harvard Sq)
$10 / $8 students, seniors

As part of the Boston LGBT Film Festival, it's a zombie movie with laughs and gore on a night that coincides with a country-boy coming home to come out. Apparently there's more queer horror than I expected since there are a couple shorts included in the program including a "lesbian vampire" flick by Katrina del Mar.

FRI 5/14

9:30pm
The Pill w/ Spirit Kid
at Great Scott, 1222 Comm Ave, Allston
$5 / 21+

If I ever wanted to go dancing in a club, it would have to be a night at The Pill where they play danceable Brit-pop and electro-rock and the like. I guess we're even at a point where bands are getting more danceable again. And Spirit Kid will playa live set of jangly-crunchy powerpop.

FRI 5/14

9:30pm
Jim Boggia, Oranjuly, John Brodeur, Ryan Schmidt
at Lizard Lounge/Cambridge Common, 1667 Mass Ave, Cambridge (between Harvard Sq & Porter Sq)
$9 advance / $10 door / 21+

For those who mainly want to tap their foot or bob their head while putting more effort into drinking 'n listening, this is an excellent line-up.

I heard about Philly's Jim Boggia a couple years ago and I've been listening again to this classically-pop singer-songwriter (a la Nilsson, etc) more and more. John Brodeur is another powepop dude that doesn't seem to play Boston frequently. While those guys may play solo, Ryan Schmidt will be rocking with a band and Oranjuly is a delightful piano-centric trio.

FRI 5/14

10pm
Melvin Sparks
at The Beehive, 541 Tremont St, Boston (South End)
FREE / 21+

Melvin Sparks isn't generally remembered as one of the great jazz guitarists, but he was in the midst of the soul-jazz/groove scene of the 60's & 70's along with Grant Green, Kenny Burrell, and so on.

He still has funky, jazzy chops and playin in an organ trio format. Definitely worth paying a cover if you dig funky guitar-jazz. In lieu of a cover, enjoy a few overpriced drinks...

FRI 5/14

10:30pm
Sister Spaceman
at Plough & Stars, 912 Mass Ave, Cambridge (Central Sq)
$5 / 21+

When Jefferson Airplane made the jump to "Starship", it was the beginning of all-out disgustingly cheesy corporate rock.

One half of Mr. Airplane Man has decided to make an analogously titular jump to Sister Spaceman with far better results. The sweet, trance-inducing primal blues-garage love is still there with a fresh partner behind the drum kit.