I saw a slideshow where they linked to various sites with free printable decorations.

Since I hate subjecting people to these often shameless excuses to increase website statistics, I picked the best ones to share.

--------------------------------------------------------------

"America Banner" (seen above):
Who needs ribbon like the photo? Any kind of tape, tacks, clips, etc should do the trick.

The anagram generator didn't come up with anything pithy, but you can add more A,M,E,R,I,C's then see what you want to spell out.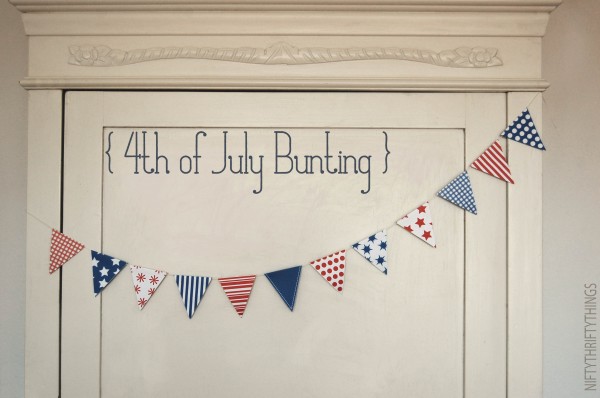 "Bunting & Toothpicks":
If you do have string and/or toothpicks, a set of ambiguous red/blue patterns are available.

.
.
.

"Tags, Signs, and Party Circles":
These are just a part of a whole plan to decorate on a budget which includes a zip file with 3 PDFS.

They contain 12 circles (3 of each), 8 labels, and 2 'signs' -- my image is not to scale.
.

"Plethora of Printables":
Use them however you'd like, although these are meant to be tags, straw flags, labels, mini notecards, and a party banner. While the top of the page tells you to email Brandi to get all 8 files, it looks like there are individual download links for all of them.
.
.

"Candy Wrappings":
For the more ambitious 'party patriot', there are a few applications for these printable-foldables.