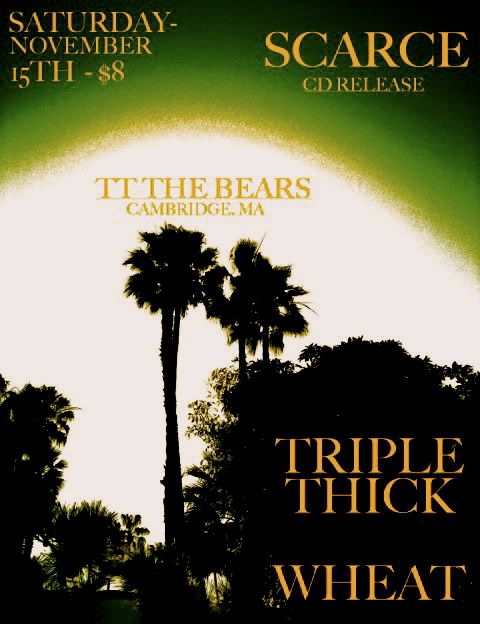 Argh, there's too much good music tonight! The tragic part is that I can't make it to any of it... But you go ahead and have a good time. (Maybe I'll skip my party...)

I've got a lot of crap to do, but I'm hoping to find some CTB-writing time.

--------------------------------------------------------------

SAT 11/15

Noon to 5pm
Juan Angel Chavez, "The Speaker Project"
Feat: Kevin Moore, Santiago Cardenas, Shirley
at Paine Gallery, South Bldg, 2nd Fl, about 611 Huntington Ave, Boston (MassArt)
FREE

Juan Angel Chavez, the artist, builds these giant boxes that look really cool found-art installations, but they're also meant to function as non-electric speakers where the performers sit/stand/jump/etc inside. It's the last week of the exhibit (ends 11/22), and there are performances scheduled everyday except Sunday and Tuesday. This is a chance to listen and watch in a different way.

Three performers are scheduled today.

Noon to 2pm: Kevin Moore -- acoustic folk
2pm to 3:30pm: Santiago Cardenas -- solo classical & flamenco guitar
3:30pm to 5pm: Shirley -- alt-rock trio

SAT 11/15

2pm
"I.O.U.S.A.": Screening & Discussion
at Rabb Lecture Hall, Downstairs, Boston Public Library, 700 Boylston St, Boston (Copley Sq)
FREE

If you haven't been sufficiently freaked out by the financial markets crisis, this documentary came out earlier this year and explains why we're screwed because of the massive National Debt. It's sometimes nice to blissfully unaware, but this may be a good time to get a better grasp of the situation. If you crap your pants, it helps out the apparel and adult-diaper industries...

SAT 11/15

7:30pm
Eric Laufer: A Rockin' Benefit
Feat: Nate Gibson & The Gashouse Gang, The Gamma Rays, Pulp 45, The Stumbleweeds, Johnny Carlevale & The Rolling Pins, Rocky Velvet
at Midway Cafe, 3496 Washington Street, Jamaica Plain
$10

The Two-Timin' Three/Four are a rockabilly band that made the Boston-to-Austin move at some point. Sadly their singer, Eric Laufer, was killed in a hit-and-run motorcycle accident in September. Most musicians don't have insurance or savings to speak of, so this is a benefit to help defray the costs of the funeral etc.

A half dozen of our local country/rockabilly should whoop it up tonight to make this a celebration of life in lieu of doing the annual Christmas Rock N' Roll Odyssey next month. The schedule of music is:

12:30am: Rocky Velvet
11:30pm: Johnny Carlevale & The Rollin' Pins
10:30pm: The Stumbleweeds
9:30pm: Pulp 45
8:30pm: The Gamma Rays
7:30pm: Nate Gibson & The Gas House Gang
Thru The Keyhole Burlesque
are expected to perform twice, around 10pm and 11pm.
DJ Easy Ed
will be spinning rockabilly and rock 'n' roll "from early until late."
Proceeds from the cover charge and the various raffles will go to Eric's family.
SAT 11/15
8pm
Church's
One Year Anniversary Celebration
Feat:
The Nebulas
(11:15pm),
Lars Vegas
(10pm),
Gene Dante & The Future Starlets
(9pm)
at
Church
, 69 Kilmarnock St, Boston (Fenway)
FREE / 21+
It's a weird name for a bar/restaurant, but the people that run Church have made a damn good music club. Over the past year, I've seen several shows over there. The bookers usually get a lot of good bands on the same bill at reasonable cover charges. The sound is usually excellent, thanks to the placement of the stage and knowledgeable sound men. (I made a suggestion once; he snarled at me, but fixed the sound.)
It's going to be a fun party. From 8pm to 9pm, there should be free PBR and Maker's Mark -- oh, and some free food. It's their anniversary party, so they might give out some good nosh. With free drinks, all music sounds better; but this is a pretty good lineup. The Nebulas are instrumental surf-rock, but this isn't all lazy, chill-in-your-beach-chair music -- they pep it up. Lars Vegas should be pretty interesting; something conceptual is definitely going on in their stylish cabaret rock. Gene Dante has toured in musical productions of "Rocky Horror Picture Show" and "Hedwig and The Angry Inch", so the glam thing is definitely in the mix of early-70's Bowie-esque rock.
SAT 11/15
The Men
(11:45pm),
The New Alibis
(10:45pm),
The Throwaways
(9:45pm),
Doggfight US
(9pm)
at
Abbey Lounge
, 3 Beacon St, Somerville (Inman Sq)
$8
You may know already, but the Abbey Lounge is closing at the end of the month. There's not much more time to enjoy another of the good rock clubs in town. This is the kind of Saturday night they hosted over the years. It's a night of in-your-face Boston punk from top to bottom. These bands may not have been around for a long time, but they're strewn with guys from dozens of bands. This is as good as any of the remaining shows.
SAT 11/15
9pm
The Right-Ons
,
The Downbeat 5
,
John Powhida International Airport
,
Go Dog Go
at
Lizard Lounge
/Cambridge Common, 1667 Mass Ave, Cambridge (between Harvard Sq & Porter Sq)
$7 / 21+
This show comes close to being mind-blowing. I've seen The Downbeat 5 take roof off of larger clubs, and I love when they put the pedal to the medal. The DB5 will probably do something special, because they have a solid grasp on whatever they do and their music already has a lot of soul and early-60's pop blended into garage/punk. Downbeat 5 is one of my favorite bands, whatever they do!
It's hard to believe that The Right-Ons are from Madrid, but they really are. These hombres rock with such a keen understanding of American soul music and authentic American vocals, I would guess they're British... The Right-Ons are in town for about a month recording an album. John Powhida International Airport is the new(ish) project of the singer from The Rudds. Powhida has tremendous vocal range and charisma. The recordings have a quirky pop with loads of funk/soul vibe, but the band tonight might rock it out a bit more. Go Dog Go opens up, and they sound pretty darn good too.
SAT 11/15
Scarce
(11:45pm),
Wheat
(10:30pm),
Triple Thick
(9:30pm)
at
TT the Bear's Place
, 10 Brookline St, Cambridge (Central Sq)
$10
This is another scary good show, and Halloween is long gone. After getting to the cusp being one of the big indie-rock bands of the '90s, Scarce hit a detour when Chick the singer had a brain aneurysm. After more than 10 years, Joyce the bassist's writing of
her memoir
rekindled interest in playing again last year. The same fire and chemistry were still there which has led to more gigs here and there (as a full band and acoustic duo). Tonight is a new CD release.
Who knows what to expect from Wheat tonight. I saw them at TT's about 6(?) years ago, and it was a joyous rock marriage of fuzzy rock with touches of Beach Boys orchestration, like a more straightforward Radiohead. They've had major personnel changes since then, and fell off my radar a bit. Triple Thick make wonderfully shambolic garage-rock.
(Flyer says $8, but TT's website says $10.)