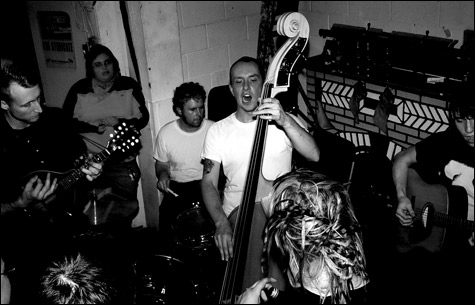 Things are looking good for a full list to go out today...

--------------------------------------------------------------

FRI 11/7

7:30pm to 9:30pm
Amateur Erotic Film Festival Pre-Party
at Good Vibrations, 308A Harvard St, Brookline (Coolidge Corner, enter thru the "rear")
FREE

9:30pm
3rd Annual Amateur Erotic Film Festival
at Coolidge Corner Theatre, 290 Harvard St, Brookline
$10 advance (at Good Vibrations) / $12 door / 18+

I assume the $10 tix will still be available tonight at the pre-party...

The party starts at our Brookline store with drinks, hors d'oeuvres, DJ Summer's Eve spinning disco & funk disco, and discounts before heading over to the Coolidge Corner Theater for a night of cinematic decadence, brought to you by your Hostess, Miss Evil Kinevil.
Homemade erotic shorts (short films, that is) will be judged in 3 categories: "Superior Film Making", "Most Creative", and "Best Use Of A Sex Toy". There's a video with some PG-13 (maybe NSFW) sample bits from the first year
on YouTube
.
FRI 11/7
The Tampoffs
(11:45pm),
Goodnight Loving
(10:45pm),
The Konks
(9:45pm),
Reports
(9pm)
at
Abbey Lounge
, 3 Beacon St, Somerville (Inman Sq)
$8
The Abbey is closing this month, so this is one of your last chances to see great garage-punk there. Goodnight Loving is an awesome band from Milwaukee who are gigging in a few Northeast spots before a long European tour. Three really good local bands will be playing as well.
FRI 11/7
The Cult of Point Break Society
presents: Television's "
Marquee Moon
" (11pm)
The Great Bandini
(10pm),
Leo Blais
(9pm)
at
Church
, 69 Kilmarnock St, Boston (Fenway)
$10 / 21+
Every year, the mastermind behind The Cult of Point Break Society (yes, named after
the movie
) chooses an album that's dear to deep rock fans and perform it all the way through. Last year was Neil Young's "Tonight's the Night", and they've also celebrated Big Star and Slint. It's a hodge-podge band of great local players that come together for the love of that year's artist. They rehearse a lot and recreate the music quite faithfully.
Television's "Marquee Moon" is one of those albums that influenced a million bands. I listened to it after I'd already been influenced by a thousand bands in between, but it has some killer tracks that I adore and some longer songs with inventive playing (much of which didn't pass on to the groups that followed). If you don't already love "Marquee Moon", you might think these guys are playing some awesome new music...
The Great Bandini and Leo Blais are super good rock and pop.
Proceeds benefit the
Coalition of the Willing
who provides famine relief in Southern Sudan.
FRI 11/7
9:30pm
The Press Project
,
The Re-Up
,
Lifted
at
Harpers Ferry
, 158 Brighton Ave, Allston
$10 / 18+
This show is labeled "Soundscape 2008: A Live Hip-Hop Spectacle", but I don't really know why except there 3 excellent hip-hop/funk/soul bands playing. That's real musicians playing deep grooves with MC's in front.
FRI 11/7
10pm
The Alrighters
,
Bread and Roses
at
Plough & Stars
, 912 Mass Ave, Cambridge (Central Sq)
$5
For some reason, I think a primal 50's style R&B band and a hard-charging acoustic band would be a really good match for drinking with friends and music.
FRI 11/7
10:30pm
The Toothaches
at
Alchemist Lounge
, 435 S Huntington Ave, Jamaica Plain
FREE
The Toothaches are back from New York, but just visiting. These folks rock; they're not as cavity-inducing sweet anymore, but it's hopping power-popping goodness!
FRI 11/7 and SAT 11/8
10am to 3pm
Open House/Open Studios
at
North Bennet Street School
, 39 N. Bennet St, Boston (North End)
FREE
Founded as a vocational school over 100 years ago, there is a lot of fine craftsmanship happening there, such as furniture/carpentry, jewelry, and musical instruments. The last time I went, I spent 30 minutes hanging out in the piano restoration studio (but that's me).
* * * * * * * * * * * * * * * * * * * * * * * * * * * *
SAT 11/8
11am
"
Stranger Than Paradise
"
at
Brattle Theatre
, 40 Brattle St, Cambridge (Harvard Sq)
FREE
I really wish I could motivate myself to get there by 11am. I love free movies, and Jim Jarmusch is a personal favorite. He had his sparsely beautiful view of the mundane from the beginning. This will remind you (or introduce) to what independent cinema really is. Thank you, Brattle Theater, for your monthly "
Elements Of Cinema
" series.
Stay for the post-screening discussion.
SAT 11/8
Juan Angel Chavez
, "
The Speaker Project
"
Feat:
All of the Animals
(Noon to 2pm),
Sool
(2pm to 5pm)
at Paine Gallery, South Bldg, 2nd Fl, about 611 Huntington Ave, Boston (
MassArt
)
FREE
The cool thing about this exhibit (
my post
on the opening) is that it's more than a physical installation in the form of a giant box/speaker. A few times per week, performers do their thing inside the speaker -- whatever that might be.
All of the Animals plays breezy, casual acoustic music that has roots in Hawaii (must be the ukulele). Sool will deliver some experimental pop that's befitting a band playing inside a giant box/speaker.
SAT 11/8
7pm to 10pm
The Divorced
,
Scary Mansion
,
Brown Bird
, Ladies and Gentlemen,
Vanessa Hayes
at
Nave Gallery, Clarendon Hill Presbyterian Church
, 155 Powder House Blvd, Somerville (Teele Sq)
$5 / All Ages
Quiet songs of love, loss, and other things. I saw the artwork of
one of the members
of The Divorced in his
South Boston art studio
last week, and I get the feeling from meeting him and listening to the bands that this will be a cool night of music if you venture out.
"WZBC's
DJ Ning Nong
will spin records between sets."
SAT 11/8
9pm
Jesse Dee
,
The Orange Ocean
,
Ben Arnold
at
Lizard Lounge
/Cambridge Common, 1667 Mass Ave, Cambridge (between Harvard Sq & Porter Sq)
$10 / 21+
Jesse Dee whips up a toasty warm serving of modern soul with a new CD out. Joined by keyboardy pop-rock of The Orange Ocean and singer-songwriter Ben Arnold.
SAT 11/8 + SUN 11/9
Noon to 6pm
Annual Allston Open Studios
at
1 Braintree St & 119 Braintree St
, Allston
FREE
Went last year. It was a fun walk up, down, around the two buildings. There might be more nearby art exhibits, but I haven't confirmed (yet).
---
SAT 11/8
Noon to Midnight
Phantom Gourmet Beer and Food "Phest"
at
Suffolk Downs Racetrack
, 111 Waldemar Ave, East Boston
$4 advance / $5 door
I can't really get into this, but I guess it wouldn't be bad if you were already thinking about going to the horse races -- or you hadn't made a plan for tomorrow's bachelor party before you head to Centerfolds or the Slipper... It's going to be about the same cost for food & drinks as any day at the track, except there's an "playground" (for 21+ kids) and a "Ms. Beer & Food Phest" competition at 8pm (scantily clad women parading in front of desperate men).
But don't let me stop you from going!