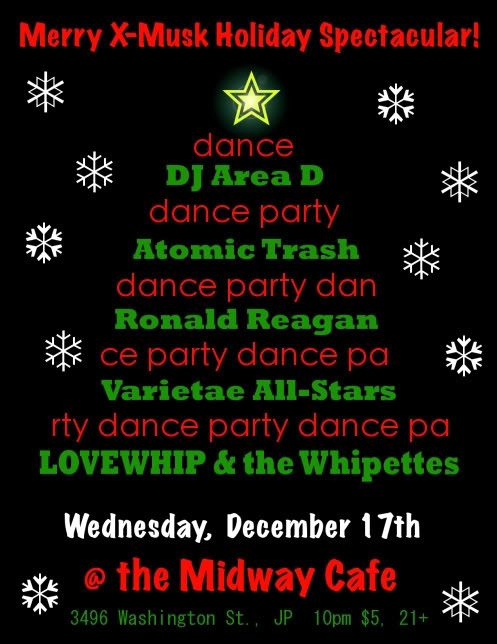 Damn, time is moving ever faster for me as we get closer to the holidays. I guess I'll do everything on 12/24, as usual...

--------------------------------------------------------------

WED 12/17

5pm to 7pm
Cupcake Tastings
at Kickass Cupcakes, 378 Highland Ave, Somerville (Davis Sq)
FREE

If you're in Davis Sq this evening, do not pass "Go" or collect $200 -- until you try a mini-cupcake at Kickass! They've been having tastings since Monday (sorry for the late notice). Check out crazy delicious flavors with names like Choc-O-Mint, Super Chocolate, Cinnamon Chai Pecan Sticky, The Mojito, Cinna Punk, Yule Nog, etc...

My only caveat is that you'll want to take some home with you, but that's a good thing.

WED 12/17

6pm
Young Artist Showcase
at Cloud Place, 647 Boylston St, Boston (Back Bay)
FREE

When people talk about Cloud Place, I get the feeling something special is going on there. Young people can find their creative voice in a supportive environment where they can collaborate with professional artists. About 50 high-school students from across Boston have been working in different media in this past semester. Tonight is a chance to peek into the future of dance, performance art, animation, and visual art.

WED 12/17

8pm to 11pm
Canadian Club Party
at District, 180 Lincoln St, Boston (Chinatown)
FREE w/ RSVP / 21+

The Phoenix / Stuff-at-Night does it again. Thanks for the free booze! Not my kind of place -- and Canadian whisky is not my drink -- but don't let that stop you...

So the theme is "Ski Lodge"... Note that there are prizes available for best/worst ski bum and ski bunny.

Canadian Club has really good new ad campaign, but I don't know how many people are drinking it yet. You might find an emptier-than-usual room, which means more whisky for you! (Might!)

Remember: Everyone that wants to go has to RSVP.

WED 12/17

10pm
Merry X-Musk Holiday Spectacular Dance Party
w/ Lovewhip & the Whipettes, Atomic Trash, Varietae All-Stars
at Midway Cafe, 3496 Washington St, Jamaica Plain
$5 / 21+

The Midway hosts a lot of wild parties, and the yuletide season is no exception. Electro/dance meisters Lovewhip anchor the night with two sets of fun songs that can appeal to the non-'dance music' fan as the lifelong bootyshaker. The Whipettes will be to give dance-alicious examples, and they'll perform separately as Atomic Trash. Vice V'ersatile of Varietae will MC the festivities, and expect some "sassy & sexy skits and musical numbers" from various Varietae players. Ronald Reagan -- the "world's best only 80's saxophone duo", not the dead president -- will make some sax magic as well.

Everyone should get a free 2-track CD of Lovewhip's "Gimme That".

* * * Almost Cheap Thrill * * *

WED 12/17

8pm
The Greater Boston Alternative Comedy Festival [PDF]
at The Paradise, 967 Comm Ave, Boston (near BU)
$15 / 18+

Some of the best local comedians = some of the best comedians around. Performances by: Shane Mauss, The Walsh Brothers, Robby Roadsteamer, Chris Coxen, Anderson Comedy, Mehran, Bethany Van Delft, and Shane Webb. (I saw Mehran a few weeks ago, and he was flat-out hilarious!)

Campaign For Real Time will also rock out at some point.

Tickets still seem available at Ticketmaster, or you could try waiting until tonight...