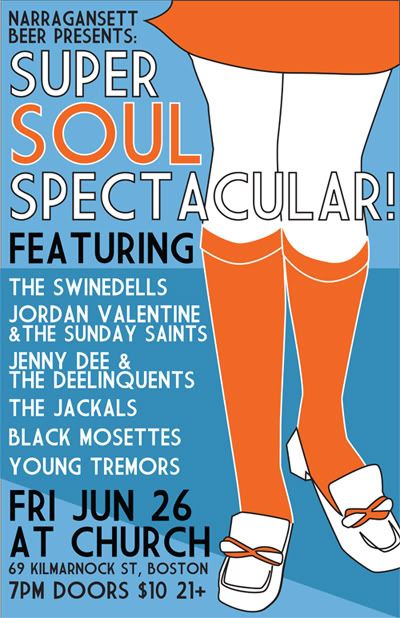 Say whatever you want about Michael Jackson's personal life, but he made some great pop music over the years. As an entertainer, he may have actually been the King of Pop. I doubt Michael's family will find much peace in the near future, but at least he has.

--------------------------------------------------------------

FRI 6/26

6pm to 8pm
"Atomic Hearts & The Electrical Brain": Opening Reception
Feat: Veronica Heabard, Andy Fish, Allison Bamford, Lindsay Small
at Space 242, 242 E Berkeley St, 2nd Fl, Boston (South End)
FREE w/ RSVP

It's been a good time whenever I go (scroll down), mainly due to the cool art and beer on tap. But mainly the art. Probably.

The exhibit seems like it'll be a fun collection of images. One of the artists, Veronica Hebard, said she drew her inspiration from "a mash of low budget Ed Wood film and the fake sparkle of the 1980's Flash Gordon film." Of this exhibit, Lindsay Small wanted to create pieces that were "heavy on design, heavy on color, and light in content."

You have to RSVP, and it's a good idea not to wait. It might not look as if you're on an old RSVP list, but you're okay.

Space 242 is practically in the Weekly Dig offices; my best location description is that it's next to Medieval Manor.

FRI 6/26

7pm to 11pm
Annual City of Cambridge Dance Party
in front of Cambridge City Hall, 795 Mass Ave, Cambridge (Central Sq)
FREE

Cambridge stops the traffic to get down and boogie, and all are welcome. There's dancing in the street for 4 hours, and it really is a party. For some reason, there's an uninhibited atmosphere that might come from the big crowd of all ages. There are bars in either direction, if you need a bit of liquid inspiration.

It looks like DJ Joey Demers is returning again, and he knows how to get the crowd moving year after year. Do want to bet on how many Michael Jackson songs will be played tonight?

(If you're not getting your dance on, you obviously can't drive down Mass Ave between 6pm and 11:30pm.)

FRI 6/26

8:30pm
Super Soul Spectacular
Feat: The Swinedells (11:55pm), Jordan Valentine & The Sunday Saints (11:05pm), Jenny Dee & The Deelinquents (10:25pm), The Jackals (9:40pm), Black Mosettes (9:05pm), Young Tremors (8:30pm)
at Church, 69 Kilmarnock St, Boston (Fenway)
$10 / 21+

Soul music is making a comeback, but there have been plenty of Boston bands that don't need to jump on the bandwagon. They were already on! Okay, maybe Jenny Dee recently decided it was a good time to explore this direction, but there was already an element of girl-group soul while she was singing in the Downbeat 5.

The beauty is that you want hear the same thing over again six times, there's going to so much splendid soul variety. Some rock it out (like Black Mosettes) and some are more trad (e.g. The Sunday Saints).

The Jackals look like the same amalgam that did a gig as The Bee Eaters in December: Amy Griffin & Matt Murphy of The Raging Teens with Dana Stewart and Andrea Gillis.

FRI 6/26

9:30pm
Leo Genovese, Japhy Ryder, Tim Collins
at Lizard Lounge/Cambridge Common, 1667 Mass Ave, Cambridge (between Harvard Sq & Porter Sq)
$9 advance / $10 door / 21+

There's not too many jazz nights at Lizard Lounge, but it's a perfect dark, cellar-like like location to bop the head and snap fingers. Pianist Leo Genovese is performing in a trio, and he's already making a splash outside of Boston. This is going to be a great night of music in an intimate club.

Japhy Ryder and Tim Collins sound pretty good too, although Tim Collins is more experimental jazz/rock than jazz/jazz -- if you know what I mean.

FRI 6/26

The Stumbleweeds (11:30pm), Nate Gibson & The Gas House Gang (10:30pm), DJ Easy Ed (9pm)
at The Midway Cafe, 3496 Washington St, Jamaica Plain
$7-ish

Believe it or not, the Midway Cafe is a great location for country and rockabilly. It reminds me of a divey honky-tonk bar I found near Bakersfield, CA -- home of Buck Owens and Dwight Yoakum.

DJ Easy Ed is going to set the tone with an hour or so of solid tunes. Nate Gibson & The Gas House Gang will hit the stage for their final appearance. (Nate is the second local singer in a month to leave town for grad school.) Maybe I'm not someone who can speak with authority; I liked The Gas House Gang when I saw them, but I didn't pay close attention. The Stumbleweeds do jump out for me. This is damn good honky-tonk.

FRI 6/26 & SAT 6/27

7:30pm
"A Workshop of Original Student Plays"
at Loeb Drama Center Experimental Theatre, 64 Brattle St, Cambridge (Harvard Sq)
$8 / $6 students, senior citizens, Harvard ID

Want a little drama in your life? Or some theatre for under $10? I really can't say much about this. (I meant to add it in the original post.)

Each performance seems to be comprised of 2 student-written plays: "Still Fighting It" by Alex Breaux and "Breaking Up" by Jack Cutmore-Scott. Talk-back sessions will follow to give you a chance to discuss with the playwrights, director, and cast.

"Still Fighting It" involves three different story threads that explore what it means to grow up, dealing with the consequences of one's actions, and the ambivalence that can ruin relationships.

In "Breaking Up", one young man waits for his roommate to return from a date where he was going to break up with his girlfriend. Every re-telling of what happened on the date gets more absurd.