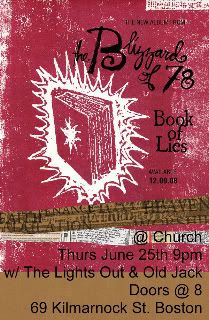 Howdy, folks. I might have a pleasant surprise for subscribers and readers tomorrow. [fingers crossed]

Some cheap options for today...

--------------------------------------------------------------

THUR 6/25

5pm to 9pm
ShiftMob #1
at Clear Conscience Cafe / Harvest Co-op, 581 Mass Ave, Cambridge (Central Sq)
FREE

You don't need to live in Cambridge to go to this event to encourage people to buy from independent businesses. Call me crazy, but the benefit to the local economy must be better when the profits don't need to go to a distant multi-national headquarters...

It's going to be an info-session/rally with brief presentations by local politicians, business people, and movement leaders. There's also going to be free food samples and much folkiness from: Elana Read, Keppie Couts, Sal Baglio, Johnny Nicholson, Jordan Tarrant, Tamsin Wilson

THUR 6/25

7pm to 9pm
D.L. Polonsky, "Non-Violent Anarchy Film Festival"
at Coolidge Corner Theatre, 290 Harvard St, Brookline
$5

If you've walked around Allston, you may have seen a D.L. Polonsky poster painting here and there and said to yourself, "Hmmm..." or "Huh!"

Tonight is a compilation of about 10 films (approx. 2 hours) he has made from a short from his early-teens (shot on a Super-8 film camera in the 70's) through the present. I didn't watch any of them recently, but these are probably going to be edgy stuff in all sorts of genres.

Some titles include "Urban Fairy", "To Mock a Killing Bird", "Midlife Cowboy", and "Dream Sequence for A Tree Grows in Brookline". This is real independent cinema, my friends!

THUR 6/25

Old Jack (11pm), The Lights Out (10pm), The Blizzard of '78 (9pm), Robots & Butterflies (8:30pm)
at Church, 69 Kilmarnock St, Boston (Fenway)
$8 / 21+

Ain't it a kick when three kickass bands play together on a Thursday night? This might be a good reason to start the weekend fun earlier than usual. It might even be nice day!

I saw Old Jack at the Abbey one time, and I really liked the soul-infused rock; it's cool songs with a tight band. I remember wishing they would play more often. Speaking of "tight:, The Lights Out are a lean, mean, powerpop rockin' machine.

Sorry to say: When you combine the middle-of-the-road pop-rock of Robots & Butterflies and their annoying MySpace page, I can't recommend showing up on time...

BUT get there as close to 9pm, because you don't want to miss any of The Blizzard Of '78. I'm shocked that these guys playing to thousands. It's easy to cross my "line of indifference" when you make a big rock sound with immaculate pop sensibility, but TBO'78 put it together and rock so well. I heard they've been throwing in Elvis Costello covers into their set since they appeared at the Lizard Lounge tribute show. Sweet!

Update:

THUR 6/25 thru SAT 6/27

7:30pm
"A Workshop of Original Student Plays"
at Loeb Drama Center Experimental Theatre, 64 Brattle St, Cambridge (Harvard Sq)
$8 / $6 students, senior citizens, Harvard ID

Want a little drama in your life? Or some theatre for under $10? I really can't say much about this. (I meant to add it in the original post.)

Each performance seems to be comprised of 2 student-written plays: "Still Fighting It" by Alex Breaux and "Breaking Up" by Jack Cutmore-Scott. Talk-back sessions will follow to give you a chance to discuss with the playwrights, director, and cast.

"Still Fighting It" involves three different story threads that explore what it means to grow up, dealing with the consequences of one's actions, and the ambivalence that can ruin relationships.

In "Breaking Up", one young man waits for his roommate to return from a date where he was going to break up with his girlfriend. Every re-telling of what happened on the date gets more absurd.