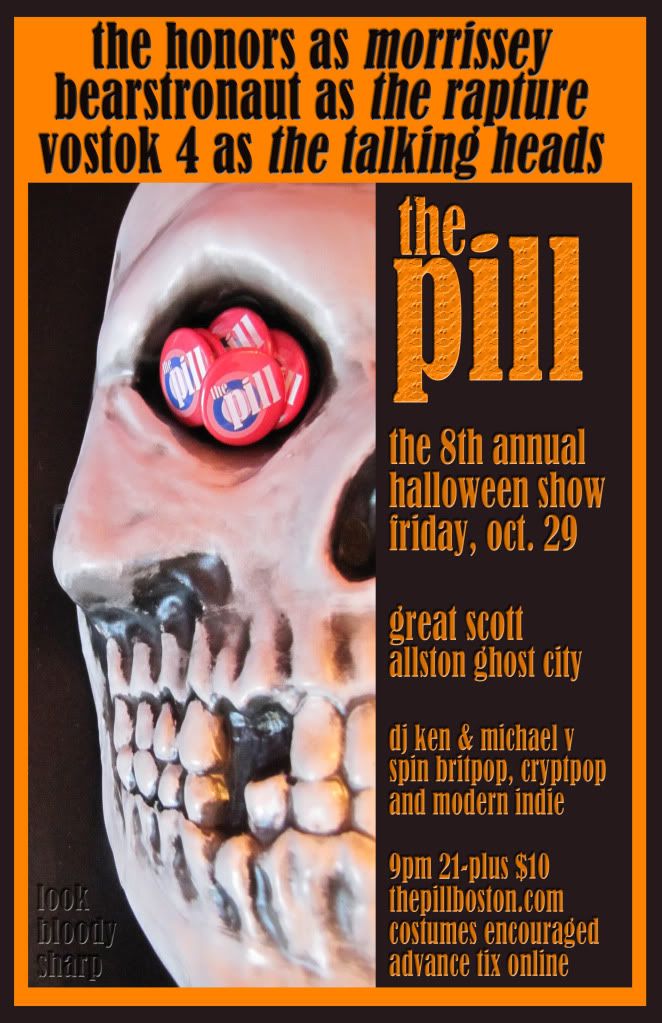 I hope to have more Saturday and Sunday cheapage besides my Halloweenie stuff below.

--------------------------------------------------------------

FRI 10/29

6pm to 8pm
"Freeky Fright Nights": Art Reception & Costume Party
at Space 242, 242 E Berkeley St, 2nd Fl, Boston (South End)
FREE w/ RSVP

More creepy art and costume party (optional) where the beer flows like wine.

FRI 10/29

6:30pm & 10pm
"Inception": Weekend-Long Screenings
at Room 100, Bldg 26, 60 Vassar St, Cambridge (MIT campus)
$4 / $5 for weekend pass

I saw this thing, and someone might want to watch "Inception" over and over again. I was told to pay extra close attention, and I'm satisfied with one viewing.

On the other hand, it probably wouldn't hurt. Maybe watch tonight then one or two more times...

You can go to all 6 or $5. Be sure you bring a photo ID when you buy your ticket and when you go multiple times.

(thru SUN 10/31)

6:30pm & 8pm
"Choose Your Own Opera Adventure: An Original Cabaret"
at VFW George Dilboy Post, 371 Summer St, Somerville (Davis Sq)
FREE

In their continuing efforts to bring fresh and exciting opera productions to the people (Best-show-title-ever contender: "Goethe Your Hand Off My Heine"), OperaHub mashes classic selections of the genre into an interactive cabaret format.

They're doing 5 shows altogether that will each be different thanks to the whim of the audiences.

The rest of the performances:

Saturday
3pm
at Brookline Public Library, Main Branch, 361 Washington St, Brookline
Sunday
3pm
at Spontaneous Celebrations, 45 Danforth St, Jamaica Plain
If you want to reserve tickets,
send an email
with your name, phone number, requested performance date, and number of seats requested.
FRI 10/29
7pm
Halloween Recital: "
The Really Loud Whorrorshow
"
at
Inner Space Yoga
, 17 Station St, Brookline (Brookline Village)
FREE / All Ages
Jordan Voelker
&
Paran Amirinazari
, violinist and violist who play in several bands (including
Beat Circus
), will perform a scary mix of classical pieces and movie themes. Expect some toy piano and saw too.
This actually sounds like a fun, quirky option from a couple of string players that aren't afraid of being loud and in your face.
"Donations and costumes encouraged."
Hey, there's quite a few good drink & food options in the neighborhood...
FRI 10/29
7pm
Halloween Night Walk
meet at Valley Gates Parking Lot, Circuit Dr, Boston (
Franklin Park
, between Playstead and Golf Course)
FREE
People are told, "Wear comfortable shoes and leave the flashlights at home."
The last time I was walking around Franklin Park, I actually said "I wouldn't want to have to walk around here at night. There will be some moonlight, the park doesn't have many artificial lights.
Maybe someone will tell some ghost stories. Chances are good that someone will try to make scary noises...
FRI 10/29
7pm
Humanwine
,
Vadalna Tribal Dance Company
at Pozen Center, 621 Huntington Ave, Boston (
MassArt
, enter on Evans Way)
FREE / All Ages
Yes, the iron pour has been
cancelled
, but revelry has been moved to the Pozen Center. Humanwine can create an eerie vibe all by themselves, and the Vadalna Tribal Dance Company seems like they'll enhance the vibe.
"All are welcome and come dressed up in your halloween costume."
FRI 10/29
9pm
Infrastructure
,
The Doctors Fox
,
Abbie Barrett
,
Brendan Boogie
at
Johnny D's
, 17 Holland St, Somerville (Davis Sq)
$10 / 21+
It's a mixed goodie-bag of music for people that don't want to see Halloween-theme show tonight. It should be a good time.
I know Brendan Boogie brings the party, and there's a lot of party potential as the night progresses from there.
FRI 10/29
9pm
The Joshua Tree
at
Harpers Ferry
, 158 Brighton Ave, Allston
$10 / 21+
This may be the first time I've mentioned The Joshua Tree, U2 tribute band, but they do a pretty good job. Since Harpers is closing on Sunday to be
reborn as a more corporate venue
, this is the last $10 show at Harpers Ferry.
FRI 10/29
9:30pm
Union Square Round Table
: "The Softer Sciences"
at
PA's Lounge
, 345 Somerville Ave, Somerville (Union Sq)
$7 -- 21+ / $10 -- 18+
Feat:
Eugenia Williamson
,
Somerville Speakout
,
Eugene Mirman
Musical guest:
Nuclear Power Pants
In my mind, this may always be somewhere between a comedy and variety show with a stable of regular performers that may tell jokes or just speak about something (with or without multimedia) that will make you laugh or maybe do something else slightly strange.
Tonight's guests include a Eugene and a Eugenia, so that's pretty special right there. Nuclear Power Pants are supposed to put on a crazy live show, and you might want to see them while they're passing through. I personally think Somerville Speakout is hilarious.
FRI 10/29
10pm
The Pill's
8th Annual Halloween Show
at
Great Scott
, 1222 Comm Ave, Allston
$10 / 21+
Feat:
The Honors
as Morrissey,
Bearstronaut
as The Rapture,
Vostok 4
as The Talking Heads
I've heard good things about The Pill's Halloween shows. Maybe it was from the folks that run it...? Still, it should be a good night -- and popular. The cover is a bit more than usual, but there's more spectacle and live rock.
The Honors supposedly killed it as The Smiths last year, so why not have them take the next step and do Morrissey's solo stuff. I'm glad to see some love for Talking Heads, because I think people forget how awesome they were.
"Costumes are encouraged though not mandatory, however we still ask you to look bloody sharp."
FRI 10/29 (thru SUN 10/31)
Midnight
"
Rocky Horror Picture Show
"
at
Loews Harvard Square
, 10 Church St, Cambridge (Harvard Sq)
$10 / 17+
Sunday: 10pm
So
these guys
do the "Time Warp" every week, but doesn't it feel like a good outing for Halloween weekend... The
classic camp and all the accoutrements
will be seen over three nights instead of one.
Or if you haven't seen
the movie
yet, this might be a good excuse.